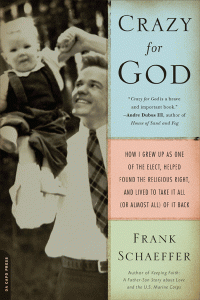 Crazy for God: How I Grew Up as One of the Elect, Helped Found the Religious Right, and Lived to Take All (or Almost All) of It Back
by Frank Schaeffer
Paperback: 448 pages
Publisher: Da Capo Press; 1st Da Capo Press Pbk. Ed edition (September 30, 2008)
Language: English
ISBN-10: 0306817500ISBN-13: 978-0306817502
Frank Schaeffer is the son of conservative theologian Francis Schaeffer (How Shall We Then Live?, The God Who Is There) regarded by many as the intellectual defender of fundamentalism in the 70's and 80's.  Francis Schaeffer's ideas, combined with the films of his son Frank, helped spark the rise of the Christian Right in the United States and were strongly influenced by him. Among them are Operation Rescue founder Randall Terry, Focus on the Family's James Dobson, the 700 Club's Pat Robertson, Prison Fellowship's Charles Colson, columnist Cal Thomas, preacher and author Tim LaHaye, and Liberty University and Moral Majority founder Jerry Falwell .
Frank, almost by accident, stumbled into the world of Christian filmmaking, producing the film series How Should We Then Live? The Rise and Decline of Western Thought and Culture (1976) with his father and Whatever Happened to the Human Race? (1979).  Father and son became obsessed with the anti-abortion movement, and Frank in particular was sucked into the big-money world of Christian broadcasting and worked hard to create the hyper-politicized Christian Right.
But Schaeffer ended up in a genuine moral and spiritual crisis in the mid-eighties when he realized that the money-driven right wing machine he had been a part of forming was out of control and had little to do with true spiritual life.  He left the movement and had to rebuild his life from scratch.  In 1990 he joined the Greek Orthodox Church, and  today "embraces paradox and mystery."
The book is part autobiography, part tribute to his parents, and part a political commentary on the movement he abandoned.  He is uncommonly blunt in his behind-the-scenes storytelling about Dobson, Falwell, and Robertson.  Many conservative Christians will find this book to be either very disturbing or a betrayal; more moderate Christians will learn more about how the Religious Right came to be the pervasive and disturbing political influence that it is today.  Having had some contact with this world over the years, I have little doubt that Schaeffer's most cynical and negative stories are quite close to reality.
Schaeffer's narrative is brutally honest about his own weaknesses, his father's struggle with bipolar illness, and the hypocrisy of the Christian broadcasting market where too much money and warped celebrity worship create a world disconnected from most people's experience and reality.
On a personal level, I connected deeply to Schaeffer's description of dealing with the mood swings of his father and their impact on the family (my father was bipolar) and also to the strange world of religious celebrity. Crazy for God is an unflinchingly honest, if imperfect, book.  Schaeffer himself would not say that he is an objective witness in any way; but his story is worth reading and worth understanding as we wrestle with the damage the movement he left has done to our society and to the Church of Christ itself.